Galaxy-Class Explorer for Strands of Fate
Probably the most difficult vehicle to write up for any game system will be the U.S.S. Enterprise-D. I'm impressed with how easy and comprehensive the stats in Strands of Fate were to create. Honestly, they're almost as fun and simple as the ones in Star Trek Adventures, the game purpose-built for Trek gaming (which I still like, for the most part, don't get me wrong).
I'd use these stats in conjunction with To Boldly Go, a Trek conversion for Strands of Fate, available here:
https://offscriptgames.files.wordpress.com/2013/06/to-boldly-go-v2.pdf
Vehicle Name: Galaxy-Class Explorer Starship
Cost 14 (Base 10, +4 for Advantages)
Size 4
Tech Level 6
Refresh 3
Aspects
Vehicle Aspects
Designed as Starfleet Flagship
A City in Space
Exploration and Defense
Specialty Aspects
Advanced Optronic Computer Core (Systems)
Holodeck (Crew)
Long-Range Sensors (Sensors)
Abilities
Crew 2
Maneuverability 0
Sensors 3
Speed 1
Structure 3
Systems 3
Weapons 3
Stress
Structural 7
System 7
Crew 6
Advantages
Cannon (-1, SoF pg. 373)

Weapon Battery (-1, SoF pg. 375)

Cargo Hold (-4, SoF pg. 360)
Crew Quarters (-1, SoF pg. 361)
Escape Vehicles (-1, SoF pg. 362)
FTL Drive (-3, SoF pg. 368)
Kinetic Shields (-3, SoF pg. 358)
Mechanical Workshop (-1, SoF pg. 363)
Med-Bay (-1, SoF pg. 363)
Missile Bay (-1, SoF pg. 374)

Weapon Battery (-1, SoF pg. 375)

Onboard Computer (-1, SoF pg. 364)
Science Lab (-1, SoF pg. 364)
Space Flight (-2, SoF pg. 369)
Teleportation System (-3, SoF pg. 365)
Tractor Beam (-2, SoF pg. 366)
---
Danube-Class Runabout for Strands of Fate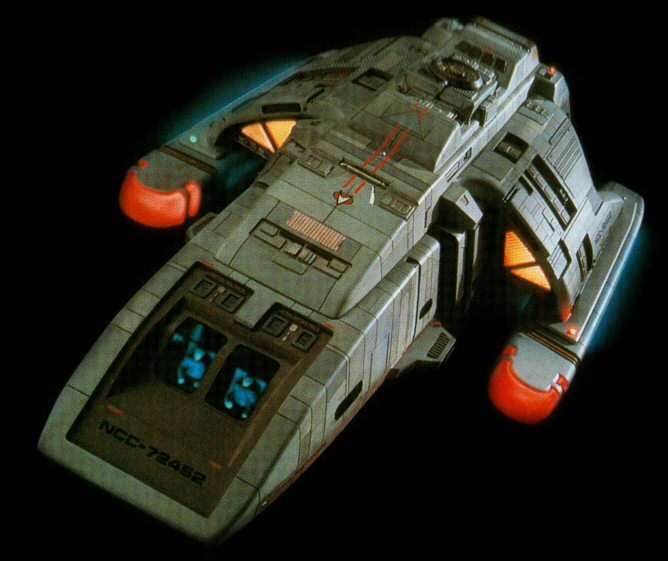 My favorite Star Trek show is Deep Space Nine. As cool as the Defiant-class Escort is, the Danube-class Runabout is the undeniable workhorse of Starfleet. Small, fast, modular, tough, the Runabout is the perfect ship for a frontier location like DS9.
Vehicle Name: Danube-Class Runabout
Cost 8 (Base 6, +2 for Advantages)
Size 2
Tech Level 6
Refresh 2
Aspects
Vehicle Aspects
Cargo and Utility Vessel
Modular Configuration
Exploration and Defense
Specialty Aspects
Advanced Optronic Computer Core (Systems)
Long-Range Sensors (Sensors)
Small and Fast (Speed)
Abilities
Crew 1
Maneuverability 1
Sensors 2
Speed 2
Structure 2
Systems 2
Weapons 1
Stress
Structural 4
System 4
Crew 3
Advantages
Atmospheric Flight ()
Cannon (-1, SoF pg. 373)
Cargo Hold (-2, SoF pg. 360)
Crew Quarters (-1, SoF pg. 361)
FTL Drive (-3, SoF pg. 368)
Kinetic Shields (-3, SoF pg. 358)
Missile Bay (-1, SoF pg. 374)
Onboard Computer (-1, SoF pg. 364)
Space Flight (-2, SoF pg. 369)
Teleportation System (-3, SoF pg. 365)
Tractor Beam (-2, SoF pg. 366)
---
B'Rel-class Bird of Prey for Strands of Fate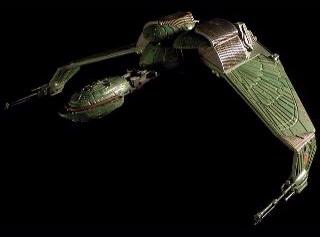 Vehicle Name: Klingon B'Rel-Class Bird of Prey
Cost 10 (Base 6, +4 for Advantages)
Size 3
Tech Level 6
Refresh 3
Aspects
Vehicle Aspects
Hit-and-Run Assault Scout
Old but Dependable Design
Menacing Outline
Specialty Aspects
Workhorse of the IKDF (Structure)
Spartan Accommodations (Crew)
Small and Fast (Speed)
Abilities
Crew 1
Maneuverability 2
Sensors 1
Speed 3
Structure 2
Systems 2
Weapons 2
Stress
Structural 4
System 4
Crew 3
Advantages
Atmospheric Flight (-1, SoF pg. 367)
Cannon (-1, SoF pg. 373)
Cargo Hold (-3, SoF pg. 360)
Cloaked (-2, SoF pg. 361)
Crew Quarters (-1, SoF pg. 361)
FTL Drive (-3, SoF pg. 368)
Missile Bay (-1, SoF pg. 374)
Onboard Computer (-1, SoF pg. 364)
Optical Camouflage (-1, SoF pg. 364)
Space Flight (-2, SoF pg. 369)
Teleportation System (-3, SoF pg. 365)
Tractor Beam (-2, SoF pg. 366)
VTOL (-1, SoF pg. 370)